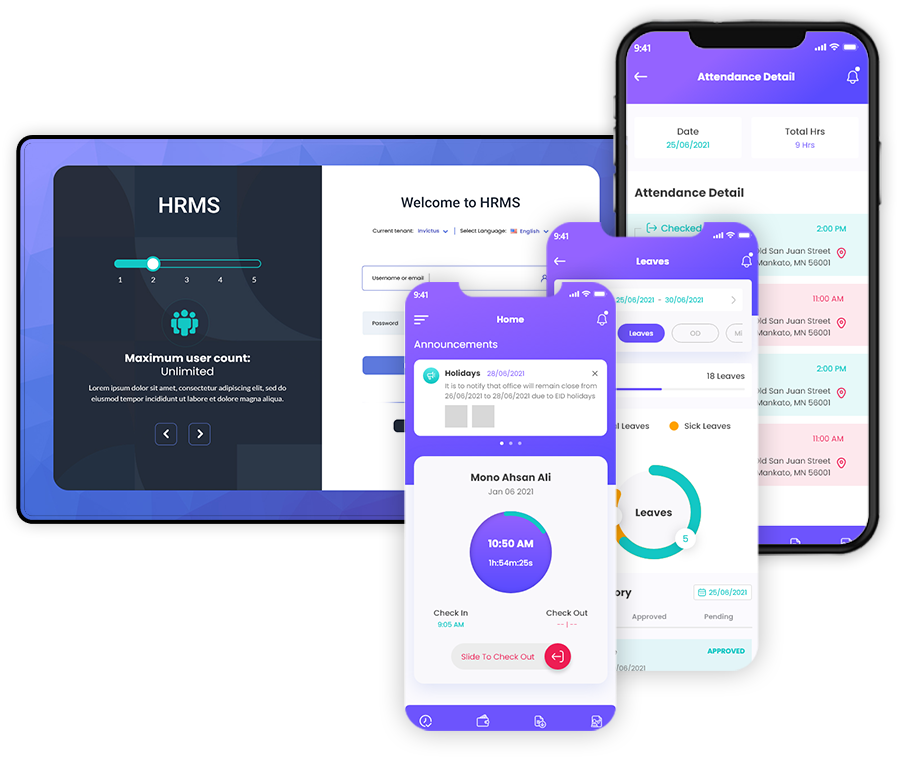 A New Way to
Engage

and

Recognize

Your Employees

HR Connect is the all-in-one HR Suite built for local businesses, With HR Connect you can handle, from onboarding to offboarding and everything in between, manage, and pay employees with one easy-to-use software. No headache is required. Save your time, money, and your sanity with HR Connect-your new sidekick for managing people, payroll, and HR processes.

Explore More
WE DO MORE FOR YOUR WORLD
Feature for HRMS
Attendance
Improve time management of your entire workforce and cover all types of employee absences. Retain and grow your best people. Time & Attendance module can be integrated with any Biometric Attendance device and provides management with detailed info about check-ins and check-outs, absenteeism, overtime, etc.
Employee Management
Spreadsheets are multi-dimensional. But people are not. HR Connect's employee directory and individual employee profiles help you to see and understand the people you are working with more fully, no matter where you're located in the world.
You can manage
Employee Arrears
Loan statements
Employee advances
Employee loan Master
Discipline and warning
Employee assets
CPL
Leave balance
Employee Setup
Employee bank
Deductions
Allowances
Employee type
Educations and Religion
Pms
Transform your business into a high-performing workforce. The difference between you and your competitors is just the employees who keep your business running.
Boost their productivity, profitability, and engagement through meaningful, constructive, and ongoing performance management. It's important to find a performance management solution that allows room for meaningful employee 1 on 1 session and feedback; simplified goal alignment and goal setting; no surprise reviews and ease of administration for everyone involved.
PMS in HR Connect is perfectly matching your needs as you can set Objective of KPI, KPI emp-setting, KPI Evaluation, and KPI Application. It provides comprehensive reporting to the top management about the overall performance of every single individual and departments, the module is designed to determine and minimize performance problems and increase performances in organizations.
Payroll
To create a smooth payment flow for employees, HR Connect will also include a payroll option where employee payment management will be done very easily and hassle-free. No matter how big and complex your payroll process is, just a Single Click on the Payroll software Module makes it ready as per the local tax structure, company policy, and statutory requirements. offers payroll generation centrally for multiple branches/locations and also includes loans, expenses, income taxes, allowances, deductions, overtime, bonuses disbursements, other funds, gratuity, EOBI, etc.
Salary Structure
Salary Period
Generate Salary
Leave Type
Overtime Type
Arrears Type
Advance Type
Gazetted Holiday
Self Service Mobile App
We aim to make the organizations paperless and make them environmental friendly, thus our mobile app performs the role of a key player to help the organizations to enter the paperless age and environmental friendly complaint. The mobile app is available on both Android and iOS. The employee can use these services on Mobile App Service..
General
HR Management
Leave & attendance
Pay Data
Self Service Portal
Let your employees manage themselves with HR Connect. In essence, a web portal Service system allows any employee to change their personal information, like contact info and bank details directly online. A comprehensive system, like HR Connect, lets you configure your present information to your employees in a way that makes sense to them. A high level of functionality like this has a positive impact on your business and helps you:
Automate timesheets, job costing, leave, and transaction management.
Automate onboarding procedures, such as training and equipment requests for recruits.
Be more accurate with labour costs and control information and reporting in real-time.
Send out automatic notifications to make sure tasks get completed, events are scheduled and compliance is met.
You gain instant access to information (such as staff performance, KPIs, and costings) to help managers make more educated decisions.

HR Connect will help you get the right information to the right people at the right time. Use HR Connect Reports to preview, print, and export over 50 standard reports—which are part of the core HR Connect—to help you improve your company's analytics capabilities. You can:
Create custom reports of Attendance.
Daily attendance and absent
Attendance card
Manual attendance
Attendance summary
Our time summary
Monthly overtime
Regarding Employees.
Employee arrears
Employee deduction
Employee transfer
Employee EOBI details
Employee EOBI summary
Employee loan list
Employee new join
Resigned employee
Employee card
Regarding Salary.
Salary slip
Salary sheet
Salary audit
Salary arrears
Final statement
Advance salary report
Regarding Tax.
Certificate Income Tax
Income Tax
Annual Tax
Other Reports like
Gratuity Report
Increment Report
Leave Encashment Report
Fuel Summary
Mobile Allowance Report

Attendance Report

Tax Report
More Reports...

Employee Report

Salary Report
More Reports...
Satisfaction, Delivered, Reviewed
We work with clients who belong to a diverse range of industries. Here are some feedback from our clients.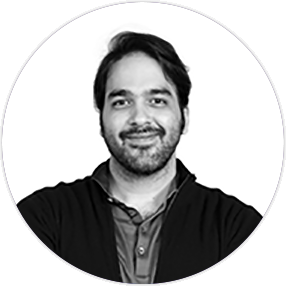 WALEED MUGGO
"HR Connect has plenty of nice features. For payroll, hopefully it will have more features related to local regulations. Thanks for bringing the products here, really excited in a word -faultless. I am really impressed with the dedication of the HR connect team to deliver a very affordable, very full featured, solution for small to large businesses the system is also relatively user friendly, easy to use and configurable. Since subscribing, they have already added a number of enhancements. "
8th March 2021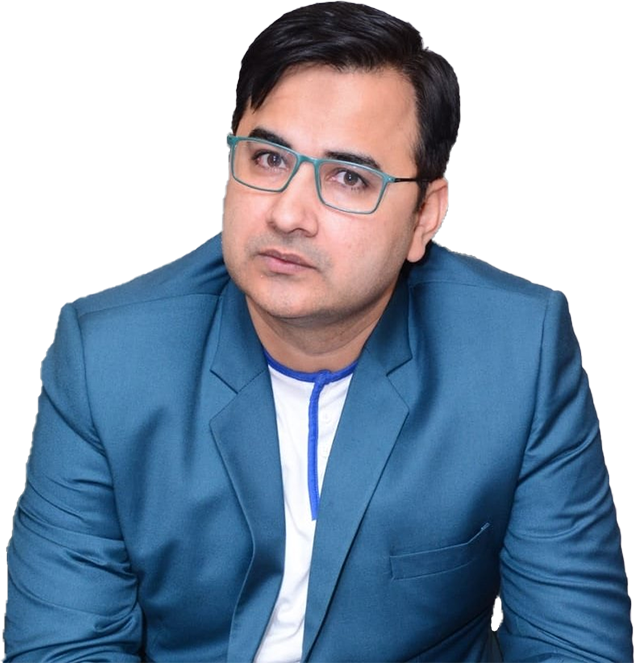 Farhan Tufail
"Our research of a suitable HR Solution (for a growing company) found "HR Connect" having good reviews and was a good fit for our criteria. The opportunity to trial the product at no cost for some time was critical in our selection process, as this allowed us to be confident the functionality was suitable and it operated as expected. We previously managed our HR administration manually using MS Excel and Word but now the system allows us to streamline employee management and simplifies the processes for employees. "
19th July 2020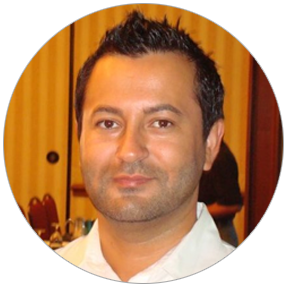 Jim Aguilera
"HR Connect has been supporting our HR processes like Recruitment, Selection, Onboarding, Training and Performance Evaluation. What I like about HR Connect's solution is that I am able to see all of our employee data in one central place, making it easier to access information. HR Connect has helped save time on internal processes and can create reports easily. What we like about HR Connect is the helpful support during implementation and general good ongoing support which is very critical to us."
22th Sep 2020
Check Our Pricing Plans
Try All Features Free For Up To 31 Days
Get started in minutes, no credit card needed, 24/7 support.
Scheduling
$299
Start Free Trial
Employee Scheduling
Auto-Scheduling
Timesheets
Payroll Integration
PTO & Leave Management
Tasking
Single Sign-On
Dashboard
SMS & Email Notifications
Schedule Templates
Unlimited 24/7 Support
Reporting
Shift Engagement
Availability Management
Demand Planning
Performance & Journaling
Time Clock (Biometric & Geolocation capture)
Custom Timesheet Fields
Get This Plan
Standard
$399
Start Free Trial
Employee Scheduling
Auto-Scheduling
Timesheets
Payroll Integration
PTO & Leave Management
Tasking
Single Sign-On
Dashboard
SMS & Email Notifications
Schedule Templates
Unlimited 24/7 Support
Reporting
Shift Engagement
Availability Management
Demand Planning
Performance & Journaling
Time Clock (Biometric & Geolocation capture)
Custom Timesheet Fields
Get This Plan
Premium
$599
Start Free Trial
Employee Scheduling
Auto-Scheduling
Timesheets
Payroll Integration
PTO & Leave Management
Tasking
Single Sign-On
Dashboard
SMS & Email Notifications
Schedule Templates
Unlimited 24/7 Support
Reporting
Shift Engagement
Availability Management
Demand Planning
Performance & Journaling
Time Clock (Biometric & Geolocation capture)
Custom Timesheet Fields
Get This Plan